2010 Season 15 Wins 8 Losses
2nd Place in both the City Tournament and the Regular Season
City Tournament Final Result
Game CT6 Chaparral 3 Johnson City Press 4
R H E
JC Press 100 101 01 4 4 3
Chaparral 110 100 00 3 6 4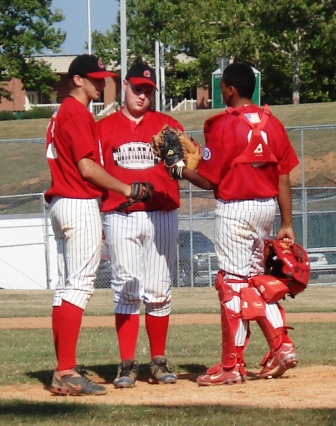 Friday July 2, 2010, Seaver Field:

In a game fully befitting a City Tournament Final, we took on the best team's best pitcher for all 7 innings in our 6th game of the week and matched him stroke for stroke to a 3 run tie after 7 innings. We even outhit Press 6 to 4 and were out walked 8 to 4, but we still came up short by just 1 run with a couple bad breaks.

Mitchell Wilber took the mound to open this City Championship game and pitched very well for the 4 innings he had remaining of his 10 inning allotment, allowing 2 hits but no earned runs, walking 1 and striking out 6. He gave up a single in the 1st and an error in right field allowed this runner to 2nd, and then unfortunately a pair of passed balls allowed him to score. In the 4th another batter reached on an error, moved to 2nd on a passed ball and to 3rd on a wild pitch, and scored with 2 outs on another error in the field.

Our side was similar during these innings as Mitchell Wilber reached on error in the first and then scored on Justin Wiseman's sacrifice fly to right field. In our 2nd Phillip Zastrow got a base hit and moved to 2nd on an errant pickoff attempt. Phillip was advanced to 3rd base on a Connor Williams single and scored easily when this ball was misplayed in left field.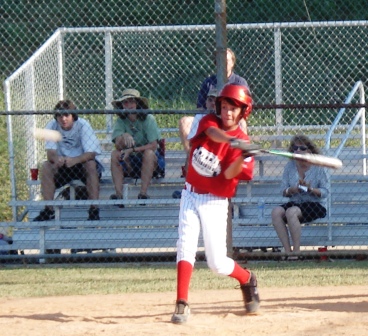 In the bottom of the 4th, Wesley Smith was hit by a pitch and advanced to second base on Colin Ice's bad hop single. Wesley then stole 3rd when the pitcher used the windup motion and scored on Connor Williams' second base hit of the contest. Calvin Wingate walked to load the bases with no outs and it looked like we were in pretty good shape. Mitchell Wilber came to bat and hit a fly ball to centerfield on which Colin Ice tagged up and attempted to score from 3rd, but he was tagged out on a close play at the plate.
Justin Wiseman worked the top of the 5th 3-up and 3-down with a strikeout, fly ball, and a grounder to Calvin Wingate at 3rd.
Hunter Tester took the hill in the top of the 6th and gave up a walk to the first batter. Press laid down a sacrifice bunt to move this runner to 2nd but he also got 3rd when we didn't get back to cover the base in time. A wild pitch then allowed this tying run to score.
In the bottom of the 7th with the score tied, Mitchell Wilber drew a 1 out walk, stole second, and advanced to 3rd on Hunter Tester's ground ball, but with 2 outs we just couldn't get him home from there.
In the top of the 8th, a hit batsman advanced to 2nd on a wild pitch and ended up scoring the deciding run on a bad hop ground ball that jumped over shortstop Calvin Wingate.
Congratulations Chaparral on a great run of 6 games in 5 days with 4 wins and for matching our 2nd place regular season with runner up honors in the City Tournament.
It's been a privilege to work with you this season!